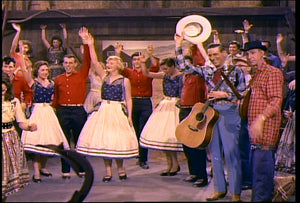 The ONLY collection of Grand Ole Opry country legends from the late 1950s
Unlock a treasure-trove of the most famous Grand Ole Opry Stars that have never been seen before with this cherished collection. Grand Ole Opry Stars of the 50s: Collection II includes over 250 historic performances from the greatest country music artists that made the Grand Ole Opry and Country Music world famous. 

Captured live from Nashville on dazzling 35mm color film, the greatest stars of the Grand Ole Opry shine like never before in the prime of their careers. Own the songs, comedy, classic duets, and memories that will make you smile and laugh for a lifetime. 

Buy the Deluxe Edition & SAVE! Click here for more information
Featuring artists such as: 
Ernest Tubb
Minnie Pearl
Kitty Wells
Webb Pierce
Jim Reeves
June Carter 
Little Jimmy Dickens
Carl Smith
Marty Robbins
Ray Price
Chet Atkins
Goldie Hill 
Lew Childre
Cousin Jody
Grandpa Jones 

The Carter Family
Jean Shepard
Hawkshaw Hawkins
Jordanaires
Johnny & Jack
Stringbean
Jean Shepard 
Duke of Paducah
Rusty Gabbard
Ray Crisp
Del Wood
Benny Martin
Autry Inman
Gordon Terry
Jimmy Newman
Rita Faye
Moon Mulligan
Grand Ole Opry Square Dancers and many, many more! 
Upgrade to the Deluxe Edition and Save! This collection includes over 400 historic performances, including memories you've come to cherish – Ray Price wailing the honky-tonk classic "Crazy Arms," Webb Pierce and Red Sovine dueting on "Why Baby Why," Jim Reeves crooning the rhythmic "Mexican Joe" - and so much more!